Gifted Grants gets an official vote of confidence after being accepted onto the government 'G-Cloud 12' framework.
Great news in the gifted world
Gifted Grants accepted onto G-cloud 12
It has been a big few months at Westwood Forster following the official launch of our latest product – GiftedMatrix – on the 17th of August. Since then, we've made some significant strides; the latest of which is marked by our approval as a UK public sector supplier on the Government G-Cloud 12 framework.
What is G-Cloud 12?
G-Cloud 12 is operated by the Crown Commercial Service (CCS). It is a UK Government framework designed to help public sector organisations find pre-qualified cloud technology providers, without having to shoulder the weight of the full tender and procurement process.
What Does This Mean For Gifted Customers?
Well, it means that Gifted Grants, our complete end-to-end grants management solution, is now available to the public sector through the government 'Digital Marketplace'  – an online catalogue that details all G-Cloud approved suppliers.
This government seal of approval is significant for multiple reasons in the Gifted world. Firstly, it means that public sector organisations can more easily find, buy, and implement Gifted Grants and other technology services through G-Cloud 12 and the Digital Marketplace. More widely, given the nature and rigour of the qualification process to G-Cloud 12, customers can be even more confident in the quality, security, and accessibility of Gifted Grants.

As Gifted Grants (like all Gifted products) was built in The GiftedMatrix and has an identical infrastructure (in terms of security, support, software etc.) to those products, the acceptance of Gifted Grants onto G-Cloud 12 also gives an official vote of confidence to all things GiftedMatrix. Of course, this includes our Grant Management solution, but also supports our solutions for legacies, major donors, volunteering, membership, events, and much more.
So, What Is Gifted Grants?
Gifted Grants is a complete and affordable cloud grants management solution, covering the entire end-to-end grant process. The solution can take whichever shape you like, depending on the scope and diversity of grants and/or other processes you offer and is accessible securely from anywhere on any device. With fully customisable fields, integrated animated forms, automated workflows and communications, and dynamic, personalised dashboards – Gifted Grants ensures your system increases your efficiency, allows for seamless collaboration and enables you to do more good.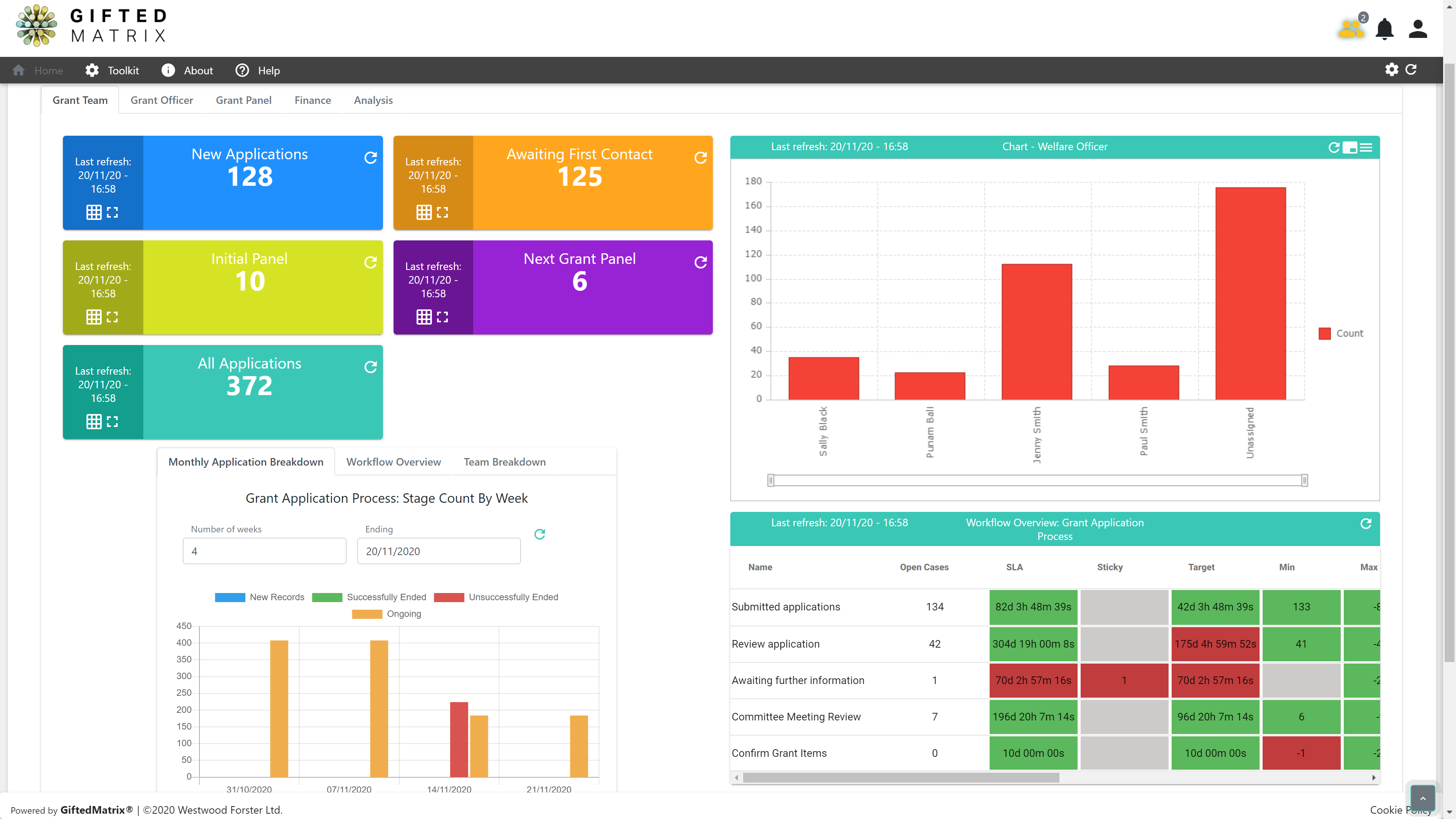 Every aspect of your grants management solution can be customised with drag and drop simplicity to suit you, from individual field names to designing full forms and automated workflows. Whether you want to set up a portal for applicants to log into and manage their progress, an area for assessors to access the information they need, or even build new processes directly into your Gifted Grants system as you grow - with no coding required – rest assured that Gifted Grants suits you. Whatever you do.